The 4G Aircool 5cm Memory Foam Mattress Topper is our best mattress topper. So if you're looking to transform your existing mattress into something luxuriously comfortable and supportive, look no further.
This cooling mattress topper is made from 4G Aircool Memory Foam, which is perfect if you find traditional memory foam too warm. This innovative foam offers all of the benefits of memory foam – superior pressure-relief, luxurious comfort and full body support. But the special thing about 4G Aircool memory foam is its 'open-cell' structure. This means air can flow through the mattress topper, naturally wicking away built up body heat and moisture to maintain a fresh sleeping space.
This mattress topper also comes with a Coolmax cover, which removes excess heat and moisture on the surface. This cover is removable and washable at 30ºC.
We proudly manufacture the 4G Aircool Memory Foam Mattress Topper in our Yorkshire factory, and deliver it to you compressed and rolled. Simply let it expand and position it underneath your base sheet.
Please be aware that if your mattress is in really bad condition and has lumps or dips, we recommend a new mattress for a better night's sleep. Don't panic, we have a full range of 4G Aircool Memory Foam Mattresses with all the same benefits as above.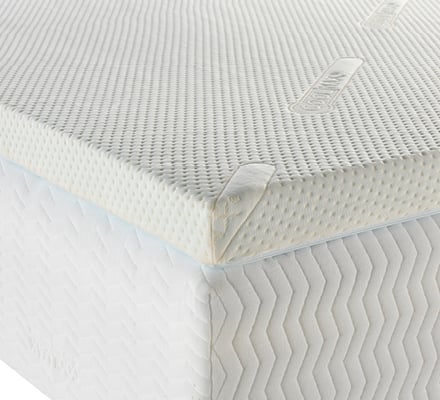 Today's Memory Foam Warehouse deal:
4G Aircool 5cm Memory Foam Mattress Topper from £169.99
>> GET DEAL NOW
Specifications
Brand: 4G Air
Deal price: from £169.99
---
Related items